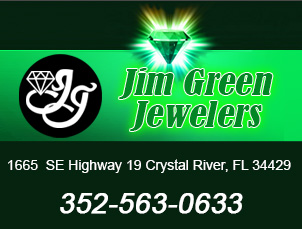 Our Jewelry

Bridal / Engagement

Anniversary

Diamond Bracelets

Diamond Earrings

Diamond Pendants

Diamond Rings

Gemstones

Estate / Vintage / Antique

Gold

Platinum

Silver & Alternate metals

Men's

Manatee / Florida

Alamea

Religious
About Us
Since 1987, Jim Green and his wife Julie have offered the finest jewelry selection in Citrus County. Jim's reputation is well known in Crystal River, Florida and throughout the County. With over 30 years experience, craftsmanship is evident in every piece of jewelry Jim creates, refurbishes and repairs.
The jewelry showroom at Jim Green Jewelers is extensive and includes: Bridal and Engagement, Anniversary, Vintage/Antique, Gold, Silver, Platinum, Diamonds, Gem Stones, Religious, and Manatee and Florida theme jewelry. They even carry the Nicole Barr collection of jewelry, as well as watches.
What Our Customers Are Saying:
"I can't tell you how thrilled my husband and I are with the bracelet. We LOVE it! It's funny, 2 of my 3 favorite pieces are from your store."
"I wanted to thank you so much for your wonderful service! We love your store and staff. Our wedding jewelry is truly dear to our hearts because of you. You are now our ONLY jeweler."
"Thank you so much for your dedication, outstanding honesty and service. You have provided our community a jeweler who is honest. You are appreciated by many who will continue to patronize your quality, excellence and service for many years to come."
"Thank you so much for your wonderful services over the last couple of years. All of you are kind, considerate, and very patient. A great team!"
"Several months ago I brought an old, broken aquamarine ring to you for repair. I didn't really think it could be fixed but you did a beautiful job. Now I wear that ring with pride and have received many compliments. Thank you so much for the beautiful work."
"Again we thank you for making both of us so happy. I thank Jesus for people like you and your family every day. The world would be a better place to live if everyone was like you Jim., thank you so much."
"the homeless we serve continue to be blessed – thanks to your compassionate support."
-The Path of Citrus County