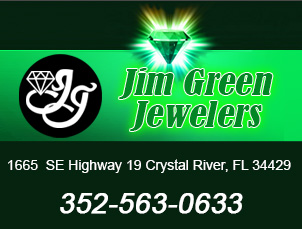 Our Jewelry

Bridal / Engagement

Anniversary

Diamond Bracelets

Diamond Earrings

Diamond Pendants

Diamond Rings

Gemstones

Estate / Vintage / Antique

Gold

Platinum

Silver & Alternate metals

Men's

Manatee / Florida

Alamea

Religious
Estate / Vintage / Antique

Shopping for unique antique, vintage or estate jewelry? Jim Green Jewelers boasts an excellent and extensive collection of jewelry spanning many different eras. Jim and Julie individually select every piece of antique, vintage and estate jewelry to ensure quality and beauty.
18k Ruby Ring

Call 352-563-0633 for pricing

18k yellow gold ring with nine beautiful red rubies, set in a swirl, with a diamond accent. $2,500.00.
Vintage Diamond Band

Call 352-563-0633 for pricing

14k white gold band with a lot of lovely vintage flair! The mounting is hand pierced with great detail, and features three center round cut diamonds, surrounded by a halo of smaller diamonds. The total diamond weight is 1.15 carats. Item comes with appraisal for insurance replacement value. Christmas sale price $3,800.00.
Vintage Sapphire Diamond Ring

Call 352-563-0633 for pricing

10k white gold vintage ring, with two elongated sapphires and a center round cut diamond. $375.00.