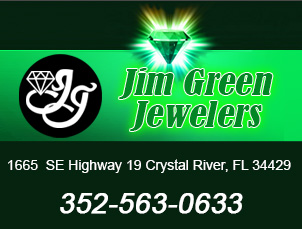 Our Jewelry

Bridal / Engagement

Anniversary

Diamond Bracelets

Diamond Earrings

Diamond Pendants

Diamond Rings

Gemstones

Estate / Vintage / Antique

Gold

Platinum

Silver & Alternate metals

Men's

Manatee / Florida

Alamea

Religious
Gemstones

Gems have captivated the attention of humans since the beginning of time. Their natural occurring beauty has intrigued many cultures from the earliest man and woman to the present. At Jim Green Jewelers we love gemstones… of all kinds! Imagine how amazing it is that Mother Nature has produced the most vibrant or delicate of colors that occur in gems around the world. Gems come in all spectrums of the rainbow and will continue to be a source of wonder and passion through the ages.
Heart Shaped Blue Topaz Pendant

Call 352-563-0633 for pricing

Four heart shaped blue topaz stones are set in a unique way to create a flower look with a single diamond as the flower's center. The pendant and chain are 14k yellow gold, and the chain is 18". On sale through Christmas for $337.50 and tax.