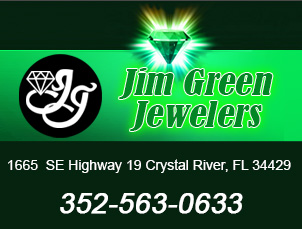 Manatee / Florida

View our selection of manatee, dolphin and Florida themed nature jewelry.
Jim Green Jewelers Crystal River Pendant

Call 352-563-0633 for pricing

This is our exclusive design created in store to celebrate our beautiful town of Crystal River. The pendant features Crystal Rivers' favorite inhabitants, the manatee! The pictured pendant is sterling silver, but it is available by order in yellow or white gold! The blue enameling really makes the pendant pop! Please call for pricing information.
Yellow gold Manatee

Call 352-563-0633 for pricing

14k yellow gold manatee with 18" yellow gold chain. He's a cutie! Sale price is $335.00 and tax. Listed internet price includes Christmas sale of 25% off as advertised. Call to order. Curbside pick up is available.