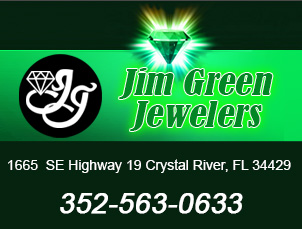 Our Jewelry

Bridal / Engagement

Anniversary

Diamond Bracelets

Diamond Earrings

Diamond Pendants

Diamond Rings

Gemstones

Estate / Vintage / Antique

Gold

Platinum

Silver & Alternate metals

Men's

Manatee / Florida

Alamea

Religious
Manatee / Florida

View our selection of manatee, dolphin and Florida themed nature jewelry.
Yellow gold Manatee

Call 352-563-0633 for pricing

14k yellow gold manatee with 18" yellow gold chain. He's a cutie! Sale price is $335.00 and tax. Listed internet price includes Christmas sale of 25% off as advertised. Call to order. Curbside pick up is available.